Overview
There are times where you may want to give an external user, such as your partner or a Cosmos employee, access to your Cosmos tenant to work with reports or make changes to the Data Model. This article covers the steps required to add an external user into your organization's Active Directory and then add them as a user in the Cosmos Portal.
Adding the User in Azure Active Directory
Adding the User in the Cosmos Portal
Details
Adding the User in Azure Active Directory
To be added as a Cosmos user there must first be an account for the user in your organization's Azure Active Directory. To create an account for the user, you will first navigate to the Microsoft Admin Center using the link here: Microsoft Admin Center - Users
Next, you will click the Add a User button.

You will then fill in the First Name and Last Name for the user (which should also automatically populate the Display Name field), provide the Username for the user (this is the account they will log in with), determine whether you want to specify an initial password for the user or have one automatically created and, if desired, you can check the "Send password in email upon completion" which will send the user a welcome email.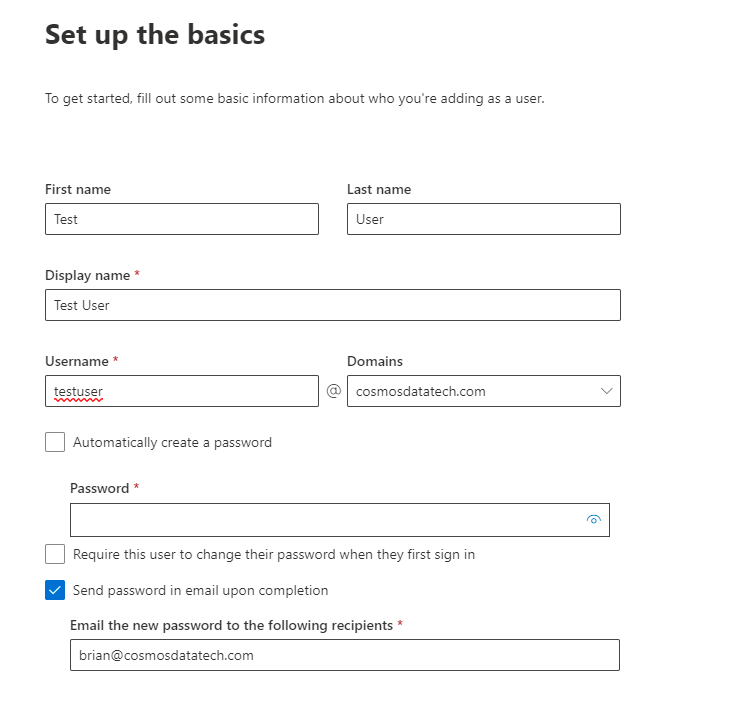 Once this is filled out you can click on Next to go to the Product Licenses tab. If the user will be creating or editing Cosmos reports, then they will need access to Excel Online in your tenant. This means they will need, at a minimum, a Microsoft 365 Business Basic license which is $6/month at the time of this writing. Assign the user the appropriate license, if needed, and then complete the remainder of the setup process.
This has provisioned the user account that your external user will use to log in to Cosmos. Before the user will be able to login, however, you will need to add them as a user in the Cosmos Portal which is covered in the next section.
Adding the User in the Cosmos Portal
Once the user has been added into your organization's Azure Active Directory, you will add just in the same manner as you would any other user. In addition, if the user will be creating or editing Cosmos Reports, you will want to ensure that they have the Report Editor role in Cosmos and that you have added them to the list of users that have the Excel add-in provisioned for them. Links to articles that address these three topics are below: