Overview
The Data Model Extension Gallery provides a quick and easy way for users to get started with Cosmos. The Extension Gallery contains a number of pre-built data models that can be loaded for your organization's Cosmos tenant. This article covers how to see the available items in the Extension Gallery and import them for your organization.
Details
To access the Extension Gallery, click the Gallery button in the Extensions section.

A window will open showing the items in the Extension Gallery.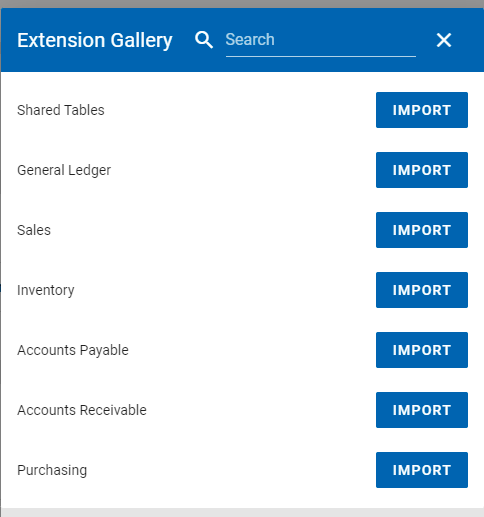 There is a "Shared Tables" extension which includes tables that the other extensions rely on, so this extension should always be imported. Clicking the Import button will import the extension into the Data Model section.
Once an extension has been imported, the Import button is disabled since an extension can only be imported once. In the example below, the extensions for Shared Tables, General Ledger, and Sales have all been imported.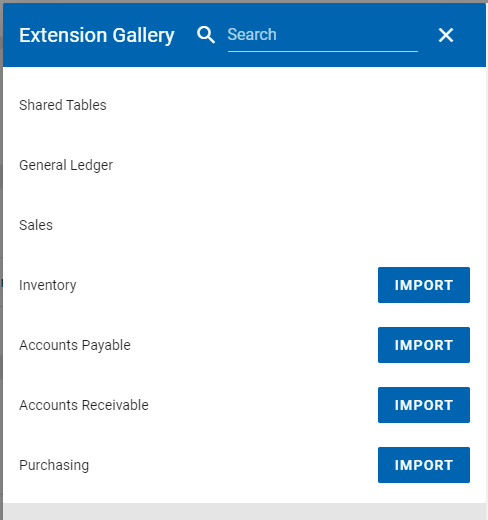 The Extensions will then be shown in the Extensions section of the Data Model window in the Portal. The user can then check out the extensions to work with them or publish and run the pipeline to finalize the data import process.