Overview
A Report Editor will sometimes want to make changes to reports that have already been published. To keep the currently report available for end-users, the Report Editor can check-out a report, make changes as desired, and then check-in the report when they are finished. The article below discusses the process of checking-out and checking-in published reports.
Details
When a user needs to make changes to a published report, they can do so by checking the report out, making the desired changes, and then checking the report back in.
Only users with the Report Editor role assigned to them can check-out and check-in reports. While the report is checked out by the user, if other users run the report, they will be running the last published version of the report, not the version that the user is making modifications to. Once the report is published, all users who run the report will run this new, latest version.
How to Check-Out a Report
To check-out a report, the user should navigate to the report that they would like to make changes to, click the ... in the lower right-hand corner of the report card, and click the Check-Out button.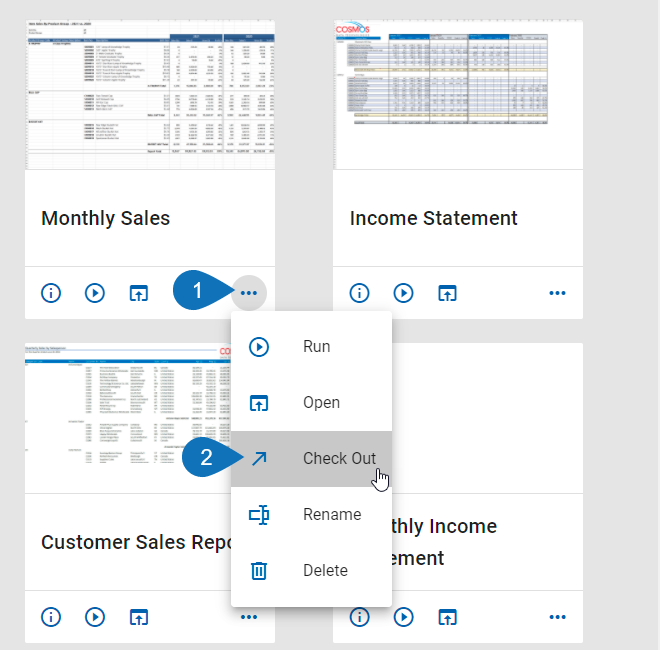 This will move the report to the users Workspace where they can then edit the report and make changes to it in Excel.
How to Check-In a Report
Once the user has finished making changes to the report, they can check-in the report from their workspace.
To check-in a report, the user can either click the check-in button that is directly on the report card, or the user can click the ... in the lower-right hand corner of the report card and click Check-In. Both options are highlighted in red in the screenshot below: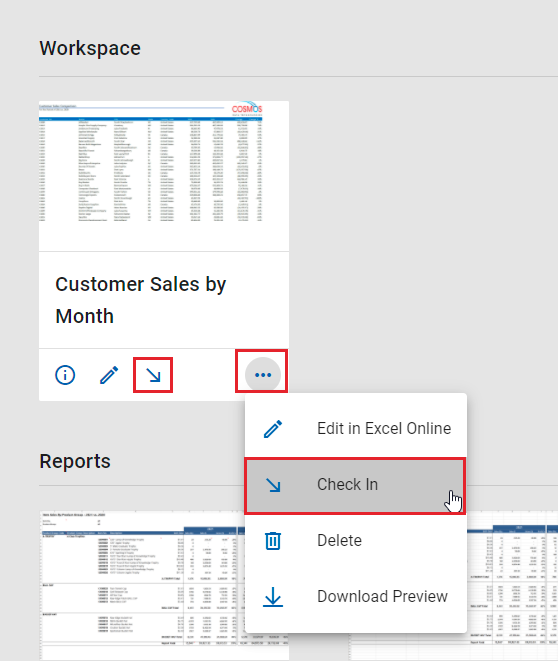 If the user has checked-out a report but decided that they no longer need to make changes, they can discard their draft by following the steps outlined in the article here: How to Delete a Report Draft.