Overview
Table Filters provide an easy way to apply filters to a table for an entire range of cells, and then enable other Cosmos functions, such as Range Lists or aggregates, to link to them and automatically inherit whatever filters are set for the Table Filter.
Table Filters are only available in Cosmos reports that were created with the Cosmos V2 Add-In.
This article will cover how to leverage Table Filters in your reports and covers the following topics:
Adding Table Filters to Existing Functions
Details
Creating Table Filters
You can view Table Filters to apply a specific set of filters across a broad range of Cosmos functions. This way, if you need to change a filter, you can change it in the Table Filter and then dozens, or even hundreds, of Cosmos functions will inherit that filter without needing to go into all the individual functions and make the update.
Since Table Filters cover a range of cells, like Range Lists, you will first highlight the range of cells that you want covered by the Table Filter. You will then go to the Table Filters section of the Cosmos Excel Add-In.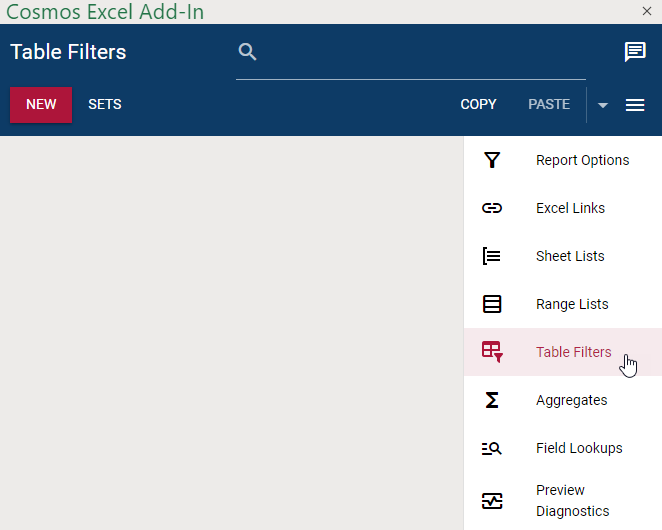 You will click New, and then select the table to apply the filters for and click Add.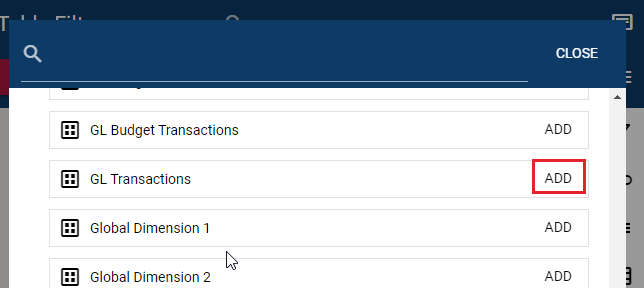 You will then give the Table Filter a name, if desired, so it's clear what this Table Filter does and then add all the relevant filters that you would like to apply to the table and click Save.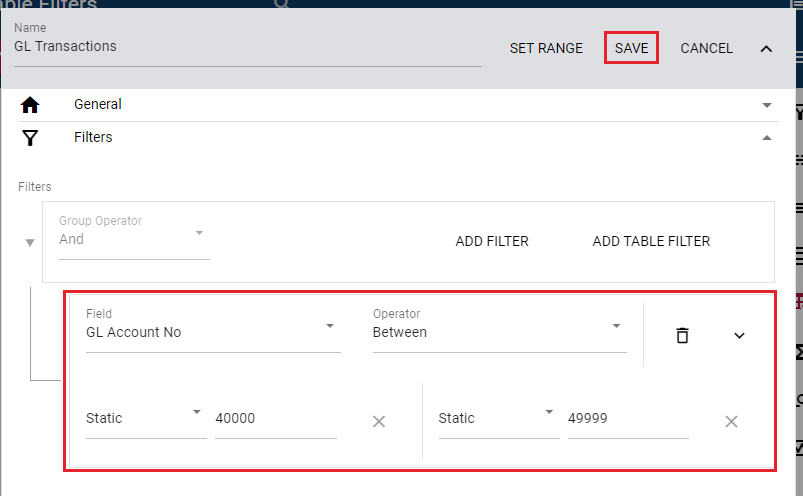 In the example below, the Table Filter that we just walked through was added to the range of B2:E2.

You can then add an aggregate in cell B2 to sum up transactions and you will notice that the Table Filter is automatically inherited by the sum functions.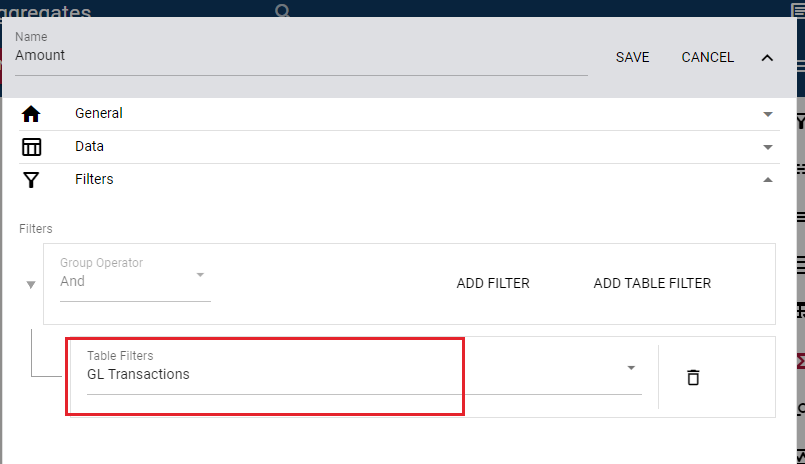 You can then add any additional filters that you would like to add to this specific aggregate function.
At this point, you can have several aggregates all pointing to the same Table Filter, and by adjusting the filters on the Table Filter itself, all the aggregates will automatically inherit these changes the next time that the report is run.
Editing Table Filters
If you need to edit an existing Table Filter, you will navigate to the Table Filters section of the Cosmos Excel Add-In, find the Table Filter that you need to edit, and click the Edit button.

This will enable the Table Filter for editing. Once your changes have been made you will click the Save button to finalize the changes.

Adding Table Filters to Existing Functions
There may be times where you have already created a series of aggregate functions, but you would like to come back and add a Table Filter to make it easier to modify them. Once the Table Filter has been added, you can go into your Cosmos functions, edit them, and in the Filters section you can click the Add Table Filter button. This will enable you to link your Cosmos function to the table filter that was created.