Overview
Excel filters can provide an especially useful way to filter data within a report, especially if the data is set out in a tabular format. This article covers how to add Excel filters to a report so that users can quickly and easily apply their own filters to the data once the report has been run.
Details
Excel Filters can provide a fast and easy way for users to further filter down data in a report after the report is run. Users can always add filters in on their own after the report has been run, but if it is easier to always have the Excel Filters be present in the report then they can be added to the report template itself.
One thing to note is that Excel Filters will work best when the data in the report is all set out in a single line, as Excel Filters don't work when nested grouping (e.g. grouped data on different rows) is being used.
To add Excel Filters to a report you will open the report and click in the rows containing the columns headings that you have added to the report. You will then navigate to the Data tab and click the Filter button. This will add filters to the column headings in your report.

Once the filters have been added the report template will then look like this:

Once the report is ran, the user will be able to apply filters to the data to further narrow down the rows that they are looking at.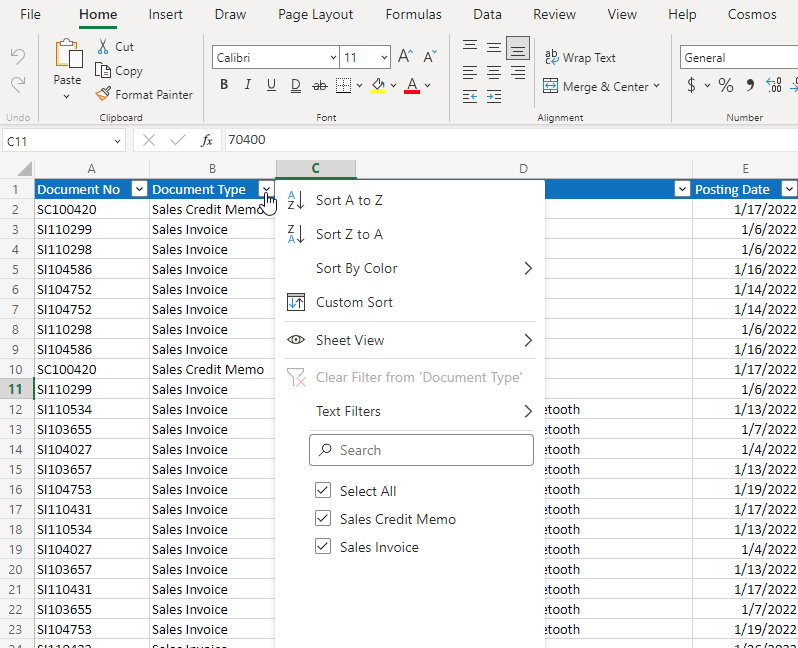 More details on using Excel Filters can be found in the Microsoft article below:
Filter data in a range or table